Now selling live shrimp.
We have some exciting news; Captain Kenny's is now selling live shrimp in store!
Live shrimp are the best bait for saltwater fishing, as they attract a variety of fish species with their natural scent and movement. They're also easy to use and store, and they perform better than frozen or artificial bait. Live shrimp are a game-changer for your fishing experience.
You can get your live bait today at Captain Kenny's. Come see us today at 9270 W Indiantown Rd, Jupiter, FL 33478 and get your live shrimp before they run out.
Near all the best spots.
Captain Kenny's is located in the heart of Jupiter Farms, right off the I-95 and the Florida Turnpike.
it is conveniently close to several fishing destinations, such as Lake Okeechobee, and Palm Beach, Jensen, and Stuart, Riverbend Park, and JW Corbett Hunting Grounds.
Whether you are looking for live bait, frozen bait, tackle, knives, rod and reel maintenance, or fishing equipment rentals, you can now find it all at Captain Kenny's (formerly Jupiter Farms Bait and Tackle). You can also enjoy our friendly and knowledgeable staff, who are always ready to help you with your fishing and hunting needs.
Our regulars love us!
A Community Hub
A growing community.
We are more than just a store. We are a community of outdoor lovers who want to help you have the best experience possible.
We also carry products from FL Camo, a local brand founded by Pete Agardy, who is a renowned artist and avid hunter. His designs are inspired by the beauty and diversity of Florida's wildlife and landscapes, and are perfect for blending in with nature.
Expert staff.
We can help you choose the right equipment and techniques for your fishing or hunting trip, depending on the season, the location, the weather, and the species you are targeting.
We'd love to give you tips on where to find the best fishing spots near Jupiter Farms and Palm Beach. You can participate in our fishing tournaments, and if you're visiting, we have the perfect rental program for you!
Come see us.
Please feel free to contact us anytime. You can call us at (561) 203-7362 , email us at info@captainkennys.com,
Visit us in person at our store in Jupiter Farms. We are located at 9270 W Indiantown Rd, Jupiter, FL 33478 .
We are open seven days a week , from 7:00 AM to 7:00 PM . We look forward to seeing you soon!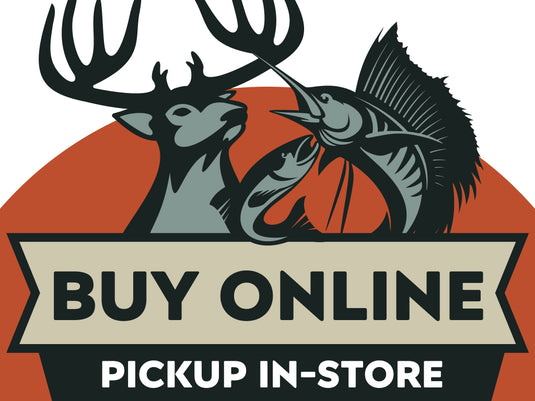 Get your fish on!
No shipping fees, no waiting for delivery, no hassle. Plus, you can enjoy our exclusive offers and services when you choose store pickup.
Long live the captain!
Our store has come a long way from where it began. Jupiter Farms Bait and Tackle is relaunching as Captain Kenny's, a tribute to Kenny's legacy and influence in our community.
The store has undergone construction and is being expanded into the next-door space, to accommodate a new line of products and services for hunting enthusiasts.
The store now carries FL Camo apparel, a wide range of Optics, and other hunting gear. The store also has a new look and feel, with a cozy design and layout. Come visit!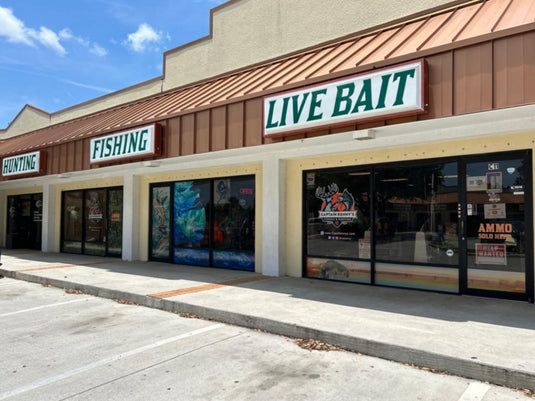 Get your hunt on.
We are thrilled to announce that Captain Kenny's is growing into the hunting category, offering you a one-stop shop for all your outdoor needs. Whether you are looking for optics, camo, archery, or other gear and equipment, we have you covered with top brands like Leupold, Sig Sauer, and more.
Come see our new hunting section and let our expert staff help you find the best products for your next adventure. We can't wait to see you at Captain Kenny's, where we have something for every hunter.
Come see why we're the talk of the town.
If you love fishing, you will love our updated fishing section at Captain Kenny's. We now carry more apparel, a wider range of saltwater and freshwater products than ever before. We also recently added NLBN, JYG and Rugged Road to our assortment.
Our staff love to give tips on where to find the best fishing spots near Jupiter and Palm Beach. Come see our fishing and hunting store and let us inspire you with our passion for the great outdoors.
We can't wait to see you at Captain Kenny's, where we have something for every outdoorsman.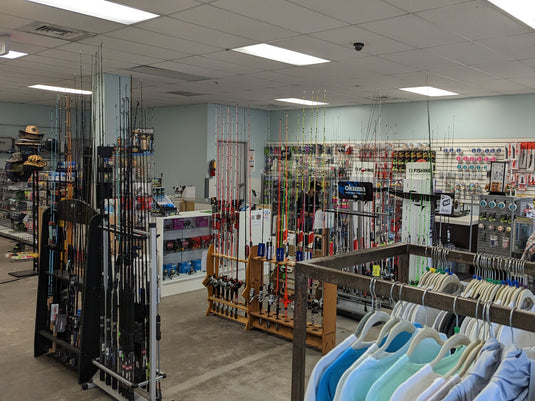 Visit the store
More Adventure Awaits...